Notes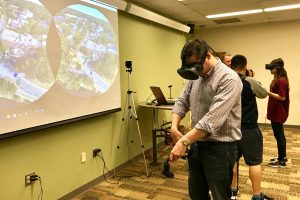 I enjoyed visiting with many of you at our Oculus Rift and Vive demo last week. We were fortunate to be joined by colleagues from area universities Randolph Macon and VCU. They are grappling with many of the same things we are grappling with in terms of juggling the hype/potential with practical/meaningful applications. Lots of fun, idea sharing, and stimulating conversation was had. Major thank you to Joedy Felts from Communications for letting us use his Oculus Rift! If you couldn't make it last week, we'll have more later this summer.
---
The State of Immersive Technology at Google. 
With immersive computing around us and woven into our environment, information will be richer, more relevant, and more helpful to us.
Ever since I started this community of practice / newsletter I've struggled with how to frame the conversation and how to name the group. I wanted it to be both focused but wide ranging in scope.  After reading a particularly insightful article from Google's VR/AR led VR Clay Bavor, I've finalized on a name:  Immersive Technologies at UR. Clay makes a strong case that VR and AR technologies are not competing but rather exist on two unique places on the spectrum of a 'immersive technology' spectrum.
He also really does a good job of summarizing where these immersive technologies are now and provides insight into the ways they will potentially change computing in the future.
As value goes up and costs come down, immersive computing will make sense for more and more people. And this isn't a question of if — it's a question of when.
More cool things coming from Google I/O, Googles annual event.
Google's Tilt Brush Artist in Resident program continues to produce amazing results.
Google's new WebVR collects cool web-based VR games and videos
Project Tango continues to develop into a more mature AR platform for smartphones (more on this front next month at Apple WWDC?)
Speaking of Tango, a cool use of that technology in Google Expeditions – think virtual field trips but in augmented reality using phones.
---
Idea Workshopping in Virtual Reality: A development story
Say your team wants to workshop an idea. Today you grab a dry erase marker, find a room with a whiteboard, and start working. Would it be possible to replicate this process in virtual reality? If so, would VR provide benefits / problems?  This article talks about the challenges and insights gleaned from developing such an app. I thought the process of development they describe was fascinating and I can't wait to see what final product they end up with.
Some ideas explored:
How would it be if it was effortless to move whiteboards, Post-Its, and work sessions from the physical space into VR?

Do the physical constraints of these objects affect the way we think while ideating?

There's something that gets lost when trying to have meetings on digital platforms like Slack or Hangouts / Skype; is it the physical presence, our facial expressions, or the limited tools that make these platforms so inefficient and awkward when it comes to ideation?

What if all of these physical nuances could be moved to a digital space and still remain tangible for the user?